Wunderkabinett
Caveat Lector Editors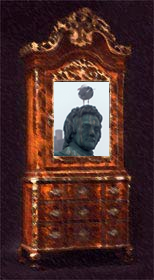 Our picks for scintillating sites on the Web:

We Players - Site-specific theater in the Bay Area.
Michael Hawley - Links to the author's fiction.
Gilbert Sorrentino: The Lost Laureate of Brooklyn - An entertaining essay on the sardonic, idiosyncratic writer, including his life in and out of the borough.
NASA: Space Sounds - Yes, there are sounds in space, and the Caveat editors find the ambient noise conducive to thought and composition.
Creative Live - Streaming video workshops for the creative arts, many of them free.
Javier Marias: Seven Reasons Not to Write Novels (and One to Write Them) - We're not big fans of list articles either, but Spain's leading novelist has a good point (or eight, to be precise).