Wunderkabinett
The Editors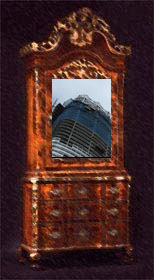 Our picks for scintillating websites and online posts for this issue:
Whisper Rapture - The latest striking film from Ken Paul Rosenthal is a music and mental health doc-opera about cellist-vocalist Madigan Shive's transformative journey from traumatized youth to virtuoso musician and mental health activist.
Museum of Internet - "Images that make the Internet awesome."
Summer of Love - The Bay Area celebrates the 40th anniversary of that fateful summer. Honest tribute or commercial ploy? You decide.
The Beat Museum - We can safely say that this institution is an honest, scintillating tribute to the days of the Beats.
Lawrence C. Jordan - Site dedicated to the work of Lawrence C. Jordan, artist and film maker.
Causeway Bay Books Moves to Taipei - Anyone with an interest in literature and free expression should be aware of this story.
Journey Through Twin Peaks - Whether you're a newbie or experienced in the ways of coffee and cherry pie, this video series is an excellent primer.