Wunderkabinett
The Editors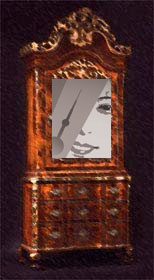 Our picks for scintillating websites and online posts for this issue:


China Girl and Other Stories - The debut short story collection of Caveat Lector co-editor Ho Lin. For more information, visit the book overview on Regent Press and Ho Lin's author website.


Longshot Press - "What's that island in the story of Pinocchio? The one where he was a donkey? Pleasure Island. No, we're not that. Sometimes I think we're more like the island ..."


Kara Hammond: Life Under Glass - Musings on contemporary experience, rendered in ironic, funny fashion.


Music Radar: Free Loops and Samples - From the simplest drum beat to complex samples... manna for the DIY musicmaker.


Obituary: Juan Goytisolo - "One of Spain's most celebrated writers, Mr. Goytisolo authored experimental novels and stories that savaged his country's religious and sexual conservatism."


Thomas Bernhard - "What matters is whether we want to lie or to tell the truth and write the truth, even though it never can be the truth and never is the truth."


The Useless Web - Be taken somewhere random and... useless...